Mind Matters
by Rev. Robert H. Tucker
Number 334
March 1, 1999
---
Dinner with Myself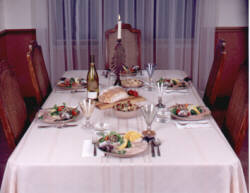 It was the annual meeting banquet of an organization of which I was a newly-elected board member. The reception sparkled with gleeful laughter and much animated conversation. The evening, though, bordered on disaster.
I found myself sandwiched between two three-person conversational clusters. Each adjacent person, duty done with the perfunctory, "Hi. My name is" and "Good to have you here," quickly turned to face two others. I could hardly begrudge them their choice, contrasting their vibrant conversations with friends to what would have been, with me, the usual probing to try to find common ground. I ended my isolation and self-conscious discomfort by momentarily closing my eyes, taking three deep breaths, relaxing my body and then deciding to carry on an intelligent conversation--with myself. I chose to reflect on the subject of 'hospitality.'
As many times as I have felt the excruciating aloneness of standing by myself in the midst of others who are catching up on their lives and enjoying themselves, one would think I would have developed sufficient coping mechanisms. Still, I periodically find I continue to pay my dues to "the lonely crowd" society.
As a result, I stand in admiration and am a silent cheerleader for those individuals I observe who, in gatherings, deliberately push aside their own desire to chat with friends and seek out the shy, the timid, and the lonely, connecting them with others. Such individuals are gracious saints, possessing a trait seldom listed on a profile or in an obituary,
Hospitality also is found in those who are able to set aside their personal issues or ideas in order to make room for the conversation of another. One such gracious saint felt herself to be a very uninteresting person for, seated at a reception, she would find out much about others, but few questions would be directed to her. In reality, it was her hospitality of listening that provided others with an evening absent those long awkward conversation-less pauses.
Of course, it is the life of the party who weaves the wondrous threads of togetherness. Just as wondrous, though, are the linkages made, one-by-one, as individuals are drawn into a group.
My dinner companion turned what could have been a disastrous evening into a thought-provoking conversation on hospitality. As the evening ended, we promised to get together again sometime soon.

--Robert H. Tucker
1 March 1999
© Robert H. Tucker, 1999.