Mind Matters
by Rev. Robert H. Tucker
Number 326
December 21, 1998
---
Retirement Thoughts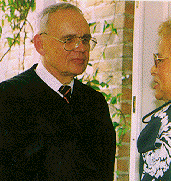 Bob Tucker

Been there. Done that. Retirement, I mean.
I retired from childhood earlier than most, due to parents whose loose reins (even at my early age) and limited financial resources (due to the Depression and World War II) made the transition easy and necessary.
I retired from an overseas missionary teaching career and returned to this country. Only in my mid-thirties, this was my fifth career retirement, but by far, the most anguishing, coming after a full six months of constant stewing and fretting.
I retired from my decade-and-a-half dream of being an academic-finally-finding myself, at the ripe age of thirty-nine, in a position to achieve that goal, I shelved that long-cherished dream and traveled to Houston.
I retired from being a parent. My children were ready far earlier than I was to hold the retirement party. Once held, they relinquished their opportunity to hear the fifty-fourth version of important parental lecture number sixteen. They survived, as did I.
Now, I retire from my job of twenty-eight years and the very special relationship I have had with so many. I find this to be, as the Prophet in Kahlil Gibran's book by that name said, "not a garment that I cast off this day, but a tearing of skin with my own hands."
Thinking back, I recall the other times of separation and pain, but in each case I survived, through deep gratitude for others gifts and graces and finding new tasks to draw me into the future. I depend on those remembrances in this transition to retirement, and I draw on my life-long knowledge and experience. Retirement doesn't get any easier, but having traversed the territory so often and with so much anguish of spirit, I approach this retirement with much confidence, good humor and true expectancy.
I also realize how privileged I am to live in this period of human history. The lack of some sort of retirement rite or ritual that marks all other major life stages--birth, marriage, and death--points to the recency of retirement as an expectation of us humans. Bismarck chose 65 as the retirement age because so few people got that old. Now, dying at that age is considered "so young."
Been there. Done that. Consequently, out of all my previous retirements, I find re-engagement, not retirement (literally, to draw back), to be the right word. Re-engagement with life, re-engagement with spouse and family, re-engagement with people. Re-engagement with new tasks. Dag Hammarskjold expressed it well: "For what has been, thanks. For what is to be, yes."
Thanks and Yes!

--Robert H. Tucker
21 December 1998
© Robert H. Tucker, 1998.